If you no longer wish to receive our emails please CLICK HERE TO BE REMOVED instead of flagging as spam.
If you're not interested in this show, but one of our others and mark this email as spam, we will no longer be able to email you.
If you don't tell us you're not interested, we won't know!
Face covering rules will remain in effect for The Long Island Music Lover's Faire - Record & CD Show; for both customers and vendors.
If you disagree, please DO NOT attend the show!
| | | | | |
| --- | --- | --- | --- | --- |
| #recipient:name# | #recipient:first# | #recipient:email# | #recipient:zip# | #recipient:xip# |
PRINT THE FIRST PAGE OR USE YOUR SMARTPHONE TO RECEIVE $2 OFF REGULAR ADMISSION!
No printer or smartphone? WRITE THE INFO IN THE 5 BOXES ABOVE (NEATLY)
ON A SHEET OF PAPER AND BRING IT WITH YOU FOR $2 OFF REGULAR ADMISSION!
Please Note: Your Magic Number has changed
after the database was rebuilt.
WE WILL NO LONGER BE MAILING POSTCARDS TO CUSTOMERS WHO HAVE VERIFIED EMAIL ADDRESSES. PLEASE USE THIS EMAIL FOR $2 DISCOUNT OFF REGULAR ADMISSION.
The next LONG ISLAND MUSIC LOVER'S Faire
This Sunday March 20th, 2022, 10am-3pm
(Preshow 8am-10am)
American Legion
Veteran's Blvd & Broadway (@ LIRR)
Massapequa (LI), NY
(Southern State Exit 30S)
RECORDS * CD'S * 45'S * 12" * DVD'S * BOOKS
MAGAZINES * POSTERS * MEMORABILIA

Rock - Jazz - Blues - Soul - R&B - Country - Pop - Dance - Rap - Disco - Soundtracks & MORE!
NEW SHOW RULES AND PROCEDURES
Efforts are being made to protect our Customers, Vendors and Staff from Covid-19. By entering the building, you are holding: Too Soft, LLC, The Record Show, The Vendors, Other Customers and The American Legion free from any liability.
1) If you are feeling ill, please DO NOT attend the show.
2) If you have a temperature above 100.4 degrees, please DO NOT attend the show.
3) Face covering MUST be worn at all times and MUST be worn properly (nose and mouth covered). If you're found not wearing a face covering, you will be removed. If you can't wear a face covering or breathe with one, get a better one or DO NOT attend the show.
4) Please remember to "Socially Distance" from other customers. If a vendor's space is getting crowded, please come back when there's more room. Vendors may determine how many customers can be at their table at any one time.
5) No food or drink will be allowed in the show, please leave it in your car.
6) The show will end at 3pm.
7) We're going to make unintentional mistakes, please work with us, as we work things out.
If you disagree with any of the rules, please DO NOT attend the show.
Hand sanitizer is available at the admission table. We will have custom Too Soft face masks available for sale.
ADMISSION ONLY: $5 (save $2 with this printout)
Children under 12 FREE
8am Pre-Show Admission: $15
Select Vendor List:
1) Lees B. (NH): 1950's-1970's non top 40 45's of all types. 1950's-1970's Jazz, Rock, Female vocals, Country, Soul, Music Books.
2) Bobby H. (PA): PSYCH/GARAGE LP's, 70's & 80's ROCK LP's, 6 Crates of SOUL/R&B LP'S... Beatles & Stones Picture Sleeves, Some Picture Discs, a NEW Batch of Comics & Magazines, never been seen.... and Soul & Group 45's.
3) Vinyl Rescue (NY): All Genres: Rock, Psych, 60's and 70's Rock, 80's, Punk, Jazz, Fusion, Soul, Electronic. Lots of NEW titles! New boxes of $1 records. Credit cards, PayPal and Venmo accepted. Website: vinyl-rescue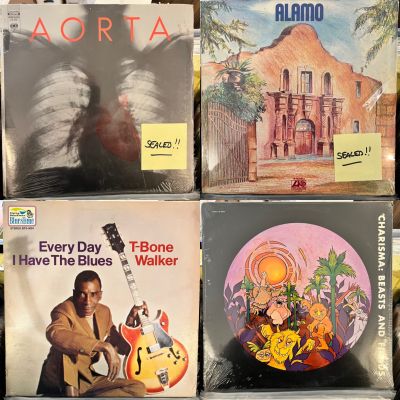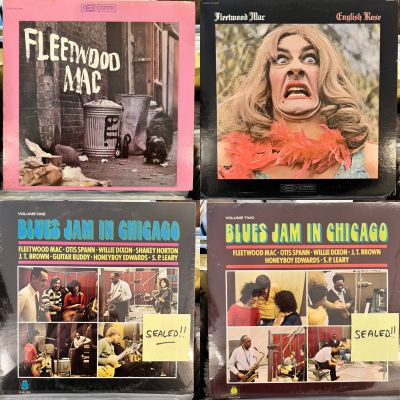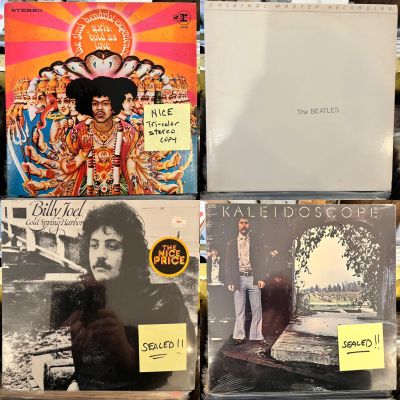 4) Nobu M. (NY): LP's: Blues, R & B, Classic Rock, New arrival LP's, 45's: Japanese City Pop, Garage, New arrivals of female vocals 60s, 70s.
5) John G. (CT): LP's including:

| | | | |
| --- | --- | --- | --- |
| | | | |
| THE GRATEFUL DEAD - LIVE/DEAD 1969 (2LP Warner Brothers Green label with booklet), GRAHAM NASH - SONGS FOR BEGINNERS 1971 (Classic Records Audiophile Pressing), BOBBIE GENTRY - ODE TO BILLIE JOE 1967 (OG Mono Capitol Pressing), NORO MORALES - NO BLUES NORO 1960 (OG Mono Tico Pressing) | GIL EVANS - THE INDIVIDUALISM OF GIL EVANS 1966 (OG Mono Verve Press), THELONIOUS MONK - LIVE 1963 (Record Store Day Release), TALKING HEADS - SPEAKING IN TONGUES 1983, THE WU-TANG CLAN - WU-TANG FOREVER 1997 (OG 4LP Set SEALED) | LOVE - DA CAPO 1966 (OG Mono Elektra Press), AGAINST ME - NEW WAVE 2007 (OG Yellow Vinyl Press), THE GRATEFUL DEAD - EUROPE '72 1973 (OG Warner Brothers 3LP Green labels with Booklet), BUDDY GUY, JUNIOR WELLS, JUNIOR MANCE - BUDDY AND THE JUNIORS 1970 (OG Blue Thumb Marbled Vinyl Press). | THE NIGHTCRAWLERS - THE LITTLE BLACK EGG 1967 (White Label Kapp Mono Promo Pressing), THE ROLLING STONES - THEIR SATANIC MAJESTIES REQUEST 1967 (Record Store Day Splatter Vinyl Pressing), NANCY SINATRA AND LEE HAZLEWOOD - NANCY AND LEE 1968 (White Label Reprise Mono Promo Pressing), THE ROLLING STONES - EXILE ON MAIN STREET 1972 (OG Press with custom sleeves and POSTCARDS) |
6) John G. (NY): Import LP's, CD's and Music DVD's. Lots of NEW titles in stock!

Additional/Larger Vendor Update Later this Week!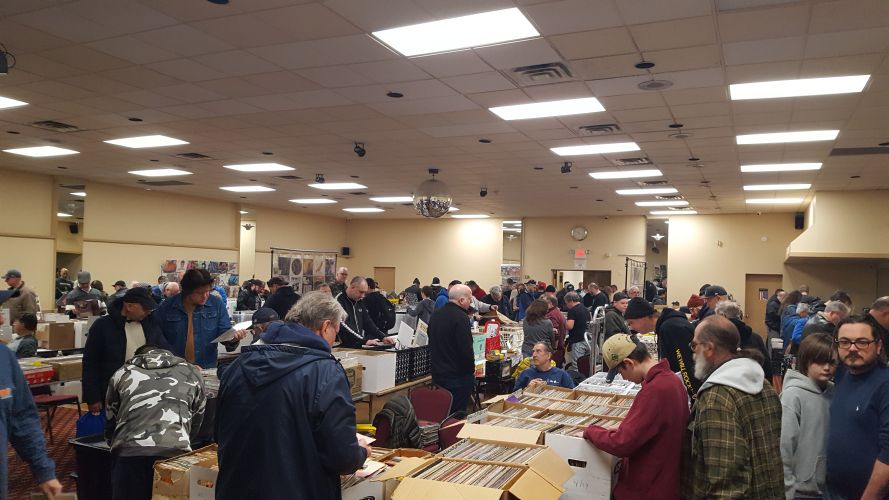 Our Other Shows Coming Up:
Saturday- April 9th - The Second Saturday Record & CD Show - Wayne, NJ
Sunday April 24th - The Westchester (NY) Record & CD Show - Tarrytown, NY
Songs from My Heart


by Robin Robbert

A collection of songs I've loved since I was a child. There is a good mix of rock, jazz, pop.

1. All of Me
2. Love Letters
3. Stupid Cupid
4. Fever
5. That's All You Gotta Do
6. Angel Baby
7. Crazy
8. You're The One
9. Anyone Who Had A Heart
10. Somewhere Out There (feat. Jason Semanovich)
11. Needles and Pins
12. House of the Rising Sun
13. I Can't Let Go
14. Somewhere Over the Rainbow

Available for purchase click on the album cover.
See VANILLA FUDGE on Tour:
... with Mark, Vinny, and Carmine

Apr - 23 - Newton Theatre - Newton, NJ - Buy Tix
Apr - 29 - Paramount Hudson Valley - Peekskill, NY - Buy Tix
Apr - 30 - Lamp Theatre - Irwin, PA - Buy Tix

See CHOCOLATE FUDGE & RAINBOWS:
(Vince Martell on Lead Guitar, TM Stevens of The Pretenders on bass, TC Tolliver of The Plasmatics on drums and Juma Sultan (Hendrix's Gypsy Son and Rainbow from Woodstock on percussion)

See Vince Martell Band:

For more information see our web site:
Click Here
Please feel free to forward this email.
If you've received this email in error
CLICK HERE TO BE REMOVED
Too Soft, LLC
PO Box 251
Hamburg, NJ 07419-0251 USA
973-209-6067
Email Us
Our Website
You are receiving this email because you either: Signed up for this mailing list through one of our websites, signed up at one
of our records shows or purchased something from us online either through auction or our website. A friend may have also
signed you up for the mailing list.